Huawei feels impact of US sanctions on its smartphone sales in fourth quarter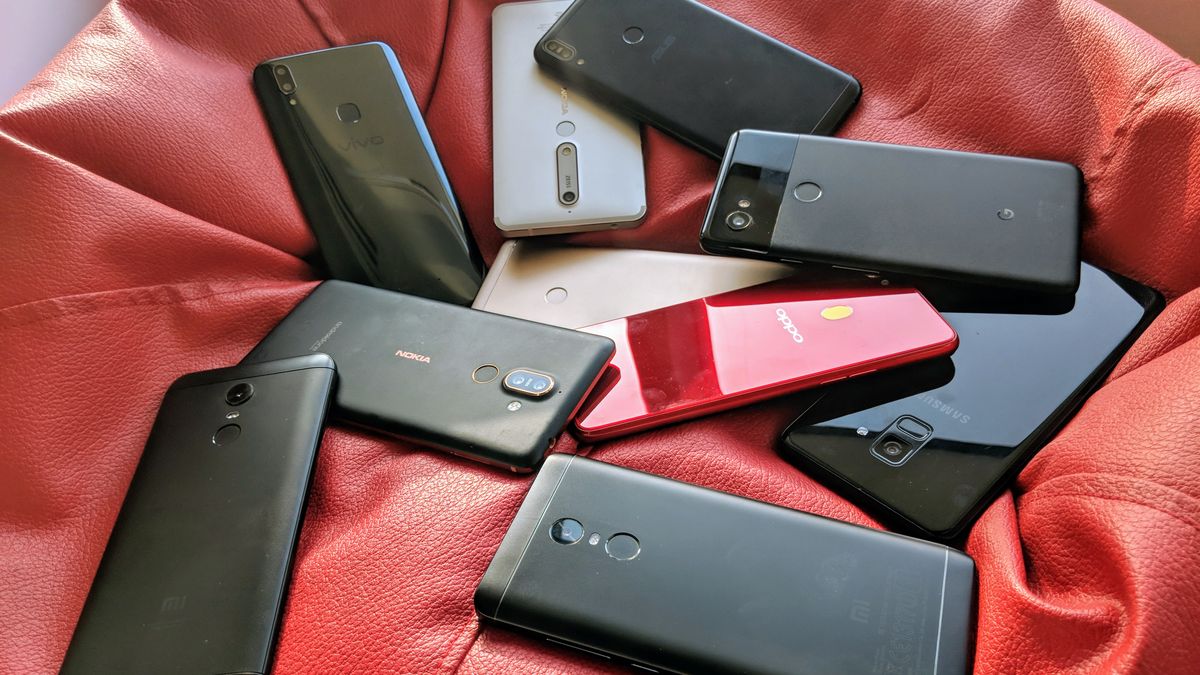 Five out of the top 10 smartphone manufacturers expanded in the fourth quarter of 2019 compared to a year ago.
According to IHS Markit data, shipments slipped to 359.2m units, down 1.5% from 364.8m units in the fourth quarter of 2018.
Samsung grew 1% year-over-year, rising to 70.7m units, up from 70.2m units. Apple grew 5% to 67.7m units, up from 64.3m units. Xiaomi, after being under pressure for much of 2019, had a strong growth quarter with a 36% increase to 32.7 million units, up from 24 million.
Motorola continues to reclaim market share with a modest 2% growth year-over-year to reach 10.3munits in the fourth quarter. This is the first time since the fourth quarter of 2018 that Motorola broke the 10 million-unit-shipment mark.
"Despite achieving double-digit growth for the year, Huawei in the fourth quarter started to feel the impact of continued headwinds from US government trade actions," said Jusy Hong, smartphone research and analysis director at IHS Markit.
"After three quarters of significant growth in 2019, Huawei's shipments declined by 7.4% year-over-year in the fourth quarter."
Until the fourth quarter, Huawei had weathered the uncertainties of a US technology ban well, shipping almost 60m units in the first quarter, followed by 59m in the second quarter and 66.8m in the third. While the US government has granted licenses to some US businesses to continue selling products to Huawei, Google is not one of them so far.
In the fourth quarter, Motorola took the wraps off of its foldable device, the new RAZR. Unlike foldables from Samsung and Huawei, this device uses the foldable screen to make the handset smaller. However, the device has not yet reached consumers and therefore did not contribute to Motorola's shipments in the fourth quarter.
Lastly, Tecno grew 13% year-over-year in the fourth quarter, to 4.3m units, up from 3.8m units—rounding out the top 10 smartphone OEMs.
Global shipments of Realme smartphones expanded 275% year-over-year, rising to 7.3m units in the fourth quarter of 2019, up from 1.9m units during the same period in 2018.
While Realme burst onto the scene as a standalone entity brand in the third quarter of 2019 by shipping more than 10 million units, the company was not able to sustain this aggressive growth in the fourth quarter.
Shipments outside the top 10 declined from 70.3m units in the fourth quarter of 2018 to 57.1m units in the fourth quarter of 2019—a drop of 19%.
Apple regained its footing in the fourth quarter of 2019, following a couple of years of decline. The new iPhone 11 series appears to be resonating with the consumer base. Further growth in the company's wearables and services segments points to add new users potentially joining the Apple ecosystem.
Looking ahead
Hong said the tensions between the US government and Huawei will continue to linger and will have an impact on the company and the overall market.
The outbreak of the coronavirus in China is set to affect the smartphone market, with Apple announcing that this challenge is likely going to impact its business. Other OEMs will be faced with similar supply chain challenges as well.
"Huawei now is launching its latest flagship smartphones internationally," said Anna Ahrens, senior analyst at IHS Markit.
"However, in markets like Western Europe, the lack of Google services will make Huawei phones a hard sell for consumers, especially considering that the company's Mate series is positioned squarely in the premium price segment."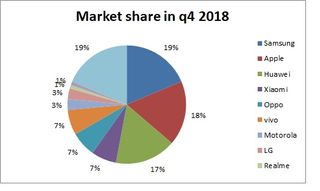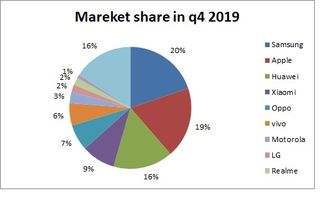 Aside from Samsung and Huawei, most of the other major smartphone OEMs ended the full year with shipments down compared to 2018. 
Shipments totalled 1.38b units in 2019, 2.2% down from 1.41b in 2018. This decrease was slightly less than the 2.4% decline from 2017 to 2018.
Just as in 2018, Samsung ended 2019 as the leader in smartphone shipments. The South Korean company shipped 294.8m units in 2019, up 1.7% from 289.9m in 2018.
"Samsung's focus on the mid-range paid dividends in 2019, helping the company to fend off global competition from Huawei, Xiaomi, Oppo and vivo," said Gerrit Schneemann, senior analyst, smartphones, at IHS Markit. 
Huawei finished 2019 second to Samsung. For the year, Huawei recorded growth of 16.7% compared to 2018—reaching 240.6m units in 2019, up from 206.1m in 2018.
Xiaomi grew 4% year-over-year, with shipments rising to 124m units in 2019, up from 118.7m in 2018. India remains a critical market for Xiaomi, but the company is facing increasing competitive pressure in the country.
One of Xiaomi's key competitors in India currently is ninth-ranked Realme. The Realme brand first entered the market in the second quarter of 2018 and was spun out of Oppo in the third quarter of 2019 to focus on the Indian market.
The brands iTel, Tecno and Infinix—all owned by China's Transsion Holdings— collectively grew by 9.6% in 2019, reaching 37.3m units in 2019, up from 34.4m in 2018.
Source link